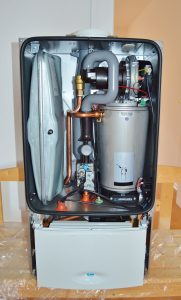 Many people don't pay much attention to the big gray or white cylinder that takes up valuable space in the basement, until they go to take a shower and find the water colder than a penguin's bathtub. Suddenly a modern convenience that is often taken for granted becomes all a homeowner can think about.
A hot water heater doesn't last forever, and there are telltale signs that give away their age and allow homeowners to catch warning signs that the heater may be compromised. The good news is that modern water heaters are much more efficient than their elders, and can save an average of $700 in energy costs over the course of their lifetime.
Water Heater's Age
As age is the single biggest factor in determining a hot water heater's performance, it's best to figure this out first. While there are conflicting reports on the average length of a water heater, most sources agree that a gas water heater will last anywhere from eight to twelve years (depending on water quality factors such as mineral and chlorine levels), and electric water heaters last a bit longer.
Most water heaters will have a serial number or manufacturer date. While this won't tell you the installation date, it gives a rough estimate as to how long the heater has been in service. Each manufacture typically has their own serial number code, so it's best to look online for instructions on how to decode the date.
While some water heaters can last longer under rare circumstances, it's best to consider a replacement at the end of the life expectancy of the unit.
Discolored Water
Because rust and other sediment can build up, this can become a factor in the health of the unit and the quality of the water. While it's not really possible to see inside the tank, discolorations in water (typically brown from rust collection) is a sign that it's time to call a professional to have the water heater flushed from rust and other impurities that have collected on the bottom of the tank.
While flushing can be a DIY project, there is a risk that flushing will cause the sediment buildup to open up holes in the tank, leaving things worse than they were before. If the tank has not been flushed yearly, it's often best to call a professional to evaluate what the best course of action would be.
However, if left untreated rust and sediment can spell certain doom for the water heater and will require a replacement. Always make sure to keep an eye out, especially if the heater is getting older.
Strange Sounds Emitting From the Tank
As sediment build-up occurs it begins to harden over time. As the water is heated and reheated, clangs and rumbling sounds emanate from the heater, alerting homeowners that there is far too much sediment building up in the tank.
Flooding
This may seem like a no-brainer, but it's worth mentioning that should the basement become flooded, especially if there hasn't been rain, the water heater has most likely developed a leak and needs to be repaired immediately. Moisture build-up or dripping sounds around the heater are also good indicators that a licensed professional should be called to the scene to inspect and make the necessary repairs.
Consult a Professional
If any of the above signs become apparent, it may be time to consult a professional. Narrow Path Plumbing are experts in their field, and will give an honest recommendation as to the best course of action.