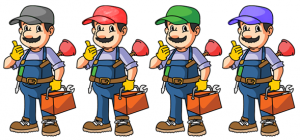 We would love to tell you to choose us! However, if you live outside of our area or have a particular project outside of our provided services, you may have to go with another contractor. If that is the case, there may be considerations you need to keep in mind as you pick out your service provider.
There are many things to take into account when you hire any contractor for your home, but the following are things you always should consider as you choose a plumber:
Licensing
If a plumber isn't licensed in your area, he or she isn't qualified to do the job, pass on them – it's that simple! If a plumber is licensed, he or she is experienced, educated, and competent. Licensed plumbers are also insured; if they didn't carry liability coverage, they wouldn't be able to have a license. This means that their work is insured, and if a plumber working on your home or other property gets hurt, you will not be held responsible for paying for medical care or lost wages.
Price
Price is a major consideration for any home repair or improvement project. This is a factor to take into account when you pick a plumber, but it shouldn't be the only factor. Even if you get a great price quote, you want to have that quote in writing. Pricing policies vary from plumber to plumber, and some policies may be less than above board. Find out what your plumber does if repairs cannot be completed, and see what will be done if additional repairs and services are needed due to unforeseen circumstances. You want a plumber that will always consult with you first before doing something that will cost you more. Additionally, if someone's quote is far cheaper than everyone else's, you should ask extra questions to be sure that they are including the full scope of work in their quote and that they are going to be using quality parts and qualified employees on your job.
Reviews
There are all sorts of reviews for plumbers, other contractors, and other businesses all over the internet. From the Better Business Bureau to Angie's List to Yelp and beyond, there are plenty of places to read what other people have said about the people you are thinking of hiring. Some reviews may be a bit off base (people who are trying to win favor or get revenge have internet access too), but overall, these should help give you a feel for what you should expect from the people you are thinking about hiring. Also check to see if your plumber has any professional affiliations or awards; being in these groups and receiving such awards are like positive reviews in and of themselves.
Recommendations
Ask other people about plumbers they have worked with. Don't limit this to homeowners; talk to real estate agents, other contractors, business owners, and property managers. They may be able to recommend someone with a proven track record for doing top notch work, and they may be able to steer you away from a company that is less than competent.
Professionalism
The final thing you want to see in a plumber is professionalism. Plumbers who act professionally are easy to get in touch with (especially during business hours). Professional plumbing companies will be on time. They will also be clean, being sure to leave your home as they found it. Keep an eye out for any instances of unprofessionalism as you begin to speak with and then work with a plumbing company, because if you detect that they are not professional, you may want to pick someone else.
https://www.narrowpathplumbing.com/wp-content/uploads/2012/09/Choosing-a-plumber.png
275
589
narrowpath
https://www.narrowpathplumbing.com/wp-content/uploads/2018/04/logo.png
narrowpath
2012-09-21 01:56:34
2012-09-21 01:56:34
How to Choose a Plumber