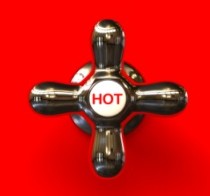 If you like having hot water in your home, you need a water heater. These valuable appliances allow us to have cleaner clothes, dishes, and comfortable baths and showers. Because of how valuable these appliances are, you want to be sure that you have the right top quality water heater for you home. You also want to have your water heater properly installed, and you want to ensure that it is properly maintained.
That being said, homeowners need to understand some basics about hot water heaters. In order to get the correct unit and be sure that everything is operational, some basic facts about this appliance are necessary.
Types of Hot Water Heaters
There are many types of hot water heaters and hot water systems. There are tank-type units, tankless heaters, point-of-use systems, centralized systems, gas hot water heaters, and electric hot water heaters. The possibilities are not endless, but there are a lot of them, and the ones mentioned are just a few that you are most likely to run into.
Most commonly in the United States, you find the tank-type storage units. These are usually larger and part of a central system. These get their name due to the reservoir of heated hot water that is prepared and ready to go when you turn on the tap.
Tankless systems are pretty popular in a lot of other parts of the world, and these are gaining popularity here in the United States now too. Called tankless or on-demand systems, these don't store any hot water. When you request water this system starts the heating process instantly. Tankless heaters can be part of a whole centralized system, but they are utilized in point-of-use systems as well, with a small tankless heater connected directly to a particular area of the home, a certain bathroom, or even a single shower.
Central systems and point-of-use systems, which have already been mentioned here a few times are not the type of heater, but they are the method that determines what type of heater that should be used. For instance, centralized hot water systems are good choices for smaller buildings like a modest house. Point-of-use systems make sense for bigger buildings and large houses that may not have a constant need for hot water in all areas; these systems help hot water to flow faster to the taps in one area once turned on and reduce utility costs.
Additionally, the power source for heating the water further differentiates hot water heaters. Gas and electric are both popular choices, but some other power supplies like solar power, propane, and geothermal energy have been popping up in the US.
Electric hot water heaters are popular because electricity is widely available. Additionally there are tank heaters, tankless, and other varieties of hot water heaters that are made that can be powered by electricity, making this a popular option.
Natural gas is also popular for several types of hot water heaters, as many brands and models have been designed to be compatible with gas. However, not all homes or other structures have gas connectivity, and installing a gas line to the home might be cost prohibitive, making a gas water heater an option that not everyone can explore.
Choosing a Hot Water Heater
As you choose your new hot water heater, you may want to consult with a local plumbing professional. If you  are not going to be the one installing the heater yourself, we can show you the variety of options and find the right water heater for your needs. Even if you are a skilled DIY expert, you may want to consult with us to determine other factors that may influence your choice of heater.
One factor is fuel type. Beyond knowing whether or not you have a gas line, you need to consider cost. The fuel type will impact the heater's operation and energy efficiency, which can lead to more or less cost; and if you have environmental concerns, energy efficiency is probably something you worry about. Additionally, fuel type will have some impact on the size of the heater, and keeping a very large tank heater full, for instance, may cost more than a tankless model.
Size, while somewhat impacted by the fuel you pick, it is mainly dictated by the size of your household and structure. You need a heater that is the proper size to supply your home with ample hot water. Also, you need to have enough room to store your heater; a tiny closet may not be able to handle a bigger unit.
Overall cost is probably another big factor. Beyond operating costs due to fuel consumption, the cost of the unit is important too. Necessary maintenance costs and potential repair costs should be considered as well.
Of course, quality and reliability need to be top considerations. Problems with hot water heaters do not just mean cold water; they can also bring leaks and floods that can cause some major damage. You want to buy a unit that is known for good performance and longevity. We can help you determine which ones are high caliber units that you can depend on in your home.
Installing a Hot Water Heater
Some folks install hot water heaters themselves, but this is a somewhat advanced project. Each type of hot water heater is a bit different, and our professional Dayton plumbers know the right techniques and approaches to do a proper installation.
If a hot water heater is not installed correctly, there could be a whole host of problems. As mentioned earlier, cold water is just the smallest of them. Incorrect installations could lead to leaks and flooding that might not only damage the new hot water heater, but these could cause major property damage to the structure and your possessions. These water issues could also lead to the propagation of mold and bacteria, which could be dangerous. This is why working with a professional is most advisable.
Conclusion
You need a hot water heater, but you may not be sure which one is right for your needs. There are many to choose from, and there are a lot of factors that need to be considered during your selection process. Depending on the type of unit you choose, you will have a slightly different installation procedure from one to the next. Working with a professional when it comes to anything to do with water heaters is probably a good idea. From choosing a unit, to installing it, and then beyond—learning about maintenance and when to replace your unit—it probably is in your best interest to work with a trusted dependable plumber.
Energy efficiency. To maximize your energy and cost savings, you want to know how energy efficient a water heater is before you purchase it.
Costs. Before you purchase a water heater, it's also a good idea to estimate its annual operating costs and compare those costs with other less or more energy-efficient models.
We sell the top brands available on the market and provide service and maintenance on the others.
Currently we sell the following brands:
We are here to help you and never to pressure you into making any purchases. If you are in the Dayton and Cincinnati area and all areas in between such as West Chester, Maineville, and Lebanon Ohio and need advice or a free estimate contact us anytime. (937) 623-2619
---