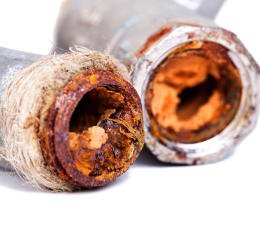 There are many reasons why a homeowner could need a plumbing inspection, and as a top Cincinnati and Dayton plumber we highly recommend them for a number of circumstances.
Why Should I Have a Plumbing Inspection?
For Regular Maintenance
All types of equipment requires upkeep, tune-ups, and other maintenance, just like your car. If you don't inspect your vehicle on a regular basis and repair things that you find to be wrong, it will not be reliable. The same goes for your plumbing; if you inspect your plumbing system you can avoid emergencies such as leaks and you may even lower your utility bills.
Before a Purchase
It's unfortunate, but a lot of home buyers do not have plumbing inspections preformed before purchasing a home. While they probably have a general pre-purchase building inspection, those inspections may not even look at the plumbing beyond a quick once over. Once a home is purchased, an existing plumbing problem is now an issue for the new owner, and it could be another big expense.
Other Problems
If your home has experienced any type of trauma like structural damage, there are all sorts of problems that could result, including issues with the building's plumbing. Some of these issues may not immediately manifest, and this means that even after you believe all issues have been repaired, you could have a plumbing emergency and a large expense down the line.
Points of Inspection
Essentially every home's plumbing system is unique, and also complex. There are so many things that need to be looked at during an inspection, it is best to have a professional like Narrow Path Plumbing to execute a comprehensive inspection of your home. If you have a plumbing inspection, the following are just a few of the things that should be examined.
Exposed Pipes and Plumbing System
We will start by visually inspecting exposed areas of your plumbing to see any damage or potential problems.
Faucets and Basins
Sinks, bathtubs, toilets, and other standard fixtures can often be the cause of plumbing problems in your home. Simple things like a leaky faucet could be an issue, even if it just results in a lot of wasted water and increased expenses.
Clothes Washers, Dishwashers, and Other Appliances
There all sorts of issues that could be caused by water-using appliances. If one of these appliances are not correctly installed or if they happen to malfunction, you could end up with a leak leading to excess water damage in your home or business. This includes looking over any drains, hoses, and valves; of course, the emergency water shut-off needs to be looked over as well.
Water Heater
If you know anyone who has had a problem with their hot water heater, you know that hot water heaters can cause small catastrophes, like home flooding.
Other Pipes
It is not only the items that are easy to see that could end up causing problems. Distribution pipes and other home plumbing need to be attended to during an inspection in order to head off potential issues.
Having an Inspection
Plumbing inspections are advantageous in all sorts of scenarios, beyond those already mentioned. A complete inspection by a reputable honest plumber that goes over areas like those listed here is a wonderful way to help keep your home safe and dry. For a complete plumbing inspection, contact the us to set up an appointment.